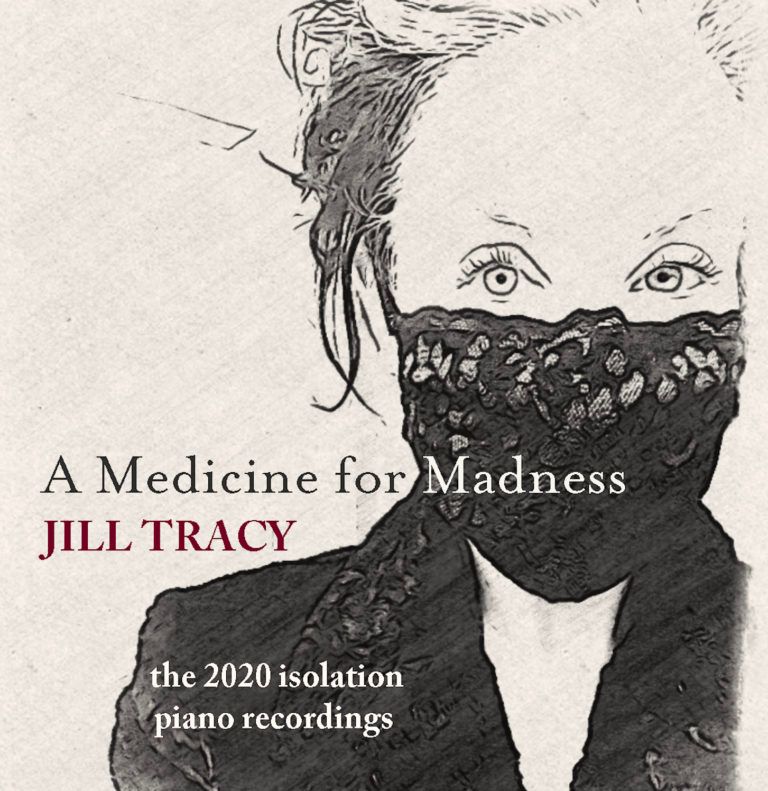 "A Medicine for Madness" contains all 10 inspired piano tracks recorded by Jill Tracy alone in isolation in 2020—previously released in a series of 3 EPs and a final single. (Evocations of the Moon, Seclusion 22/Whispers Behind the Glass, The Dark Day, Elegy for a Solitary Year.) 
"I wanted the works to exist as one album, chronicling the emotional arc of 2020, a year that will have an impact on the rest of our lives. Certainly terrifying and poignant, there was also a strange, transformative beauty hidden within 2020. We will never be the same again. We have been reset to create our own secret, secluded new worlds. 
This is your lush accompaniment. Sonic spells. Your own night music." 
REVIEWS for "A Medicine for Madness:" 
"Superior artists don't need complexity. They can move you with just their presence and an instrument, which she plays here with subtle shadings of tempo and dynamics, and sophisticated dissonant harmonies. 
Let us pray for the pandemic to end, and for Jill Tracy to continue to create these sublime piano instrumentals." 
—NPR's Hearts of Space host/producer Stephen Hill 
"So beautiful…truly talented… Jill Tracy's music opens pictures in the mind. I love the melodic structure, and the style. Its a perfect mood music. 
Her piano tracks are like a ghostly "Pearl" (Brian Eno / Harold Budd,) but unique in their mysterious nature that open that same door. I could cry, but there seems to be a mystery that I am seeking answer, but also by expressing the solitude. In some ways makes me think of those Italian made Warhol films." —cEvin Key (Skinny Puppy) 
"I turned the lights down low, lit a log fire, a candle & some incense & let Jill Tracy's beautiful nocturnal music wash over me. I was utterly transported! It is very beautiful & powerful indeed. Exquisite work!" —David J, (Bauhaus) 
Get "A Medicine for Madness" for a limited time, exclusively on Bandcamp. 
CLICK HERE and get yours. 
The perfect gift—and keepsake of the strange year that will forever live within us… 
Your support is immensely appreciated during this difficult time! 
Direct donations can also be made via Venmo: Jill Tracy (jilltracymusic) 
PayPal or Zelle: suspect (at) jilltracy dot com.