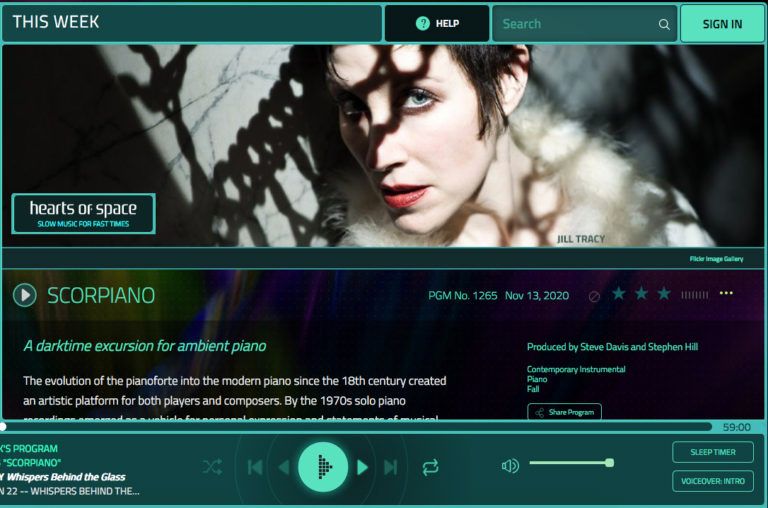 Exciting news! "Hearts of Space" (National Public Radio) is showcasing Jill Tracy's new releases on this week's episode, "SCORPIANO: a darktime excursion for ambient piano" PGM 1265 (Nov, 13, 2020) Check your local NPR radio schedules or LISTEN ONLINE HERE. 
A review of Jill Tracy's latest releases from Hearts of Space host/producer Stephen Hill: 
JILL TRACY EPs: 
THE DARK DAY, EVOCATIONS OF THE MOON, 
SECLUSION 22, WHISPERS BEHIND THE GLASS 
Contemplative piano meditations for "uncertain times" 
from San Francisco's queen of dark melancholy, Jill Tracy. 
"Singers get all the attention, and often their musical talent goes unremarked. Jill Tracy has long been celebrated as an original singer and spinner of dark tales inspired by Gothic and Romantic literature. In the Covid era, months of enforced solitude and widespread anxiety called for something different: simpler, more therapeutic, and more responsive to the zeitgeist. 
What emerged is a new group of contemplative instrumentals for solo piano. In a pure exercise of artistic power, she has imbued these pieces with the character and atmosphere of her fully produced songs. 
Superior artists don't need complexity. They can move you with just their presence and an instrument, which she plays here with subtle shadings of tempo and dynamics, and sophisticated dissonant harmonies. 
Let us pray for the pandemic to end, and for Jill Tracy to continue to create these sublime piano instrumentals." 
Purchase these titles with your donations exclusively on Bandcamp at THIS LINK. Your support is immensely appreciated during this difficult time. 
Direct donations can also be made via Venmo: Jill Tracy (jilltracymusic) 
PayPal or Zelle: suspect (at) jilltracy dot com.