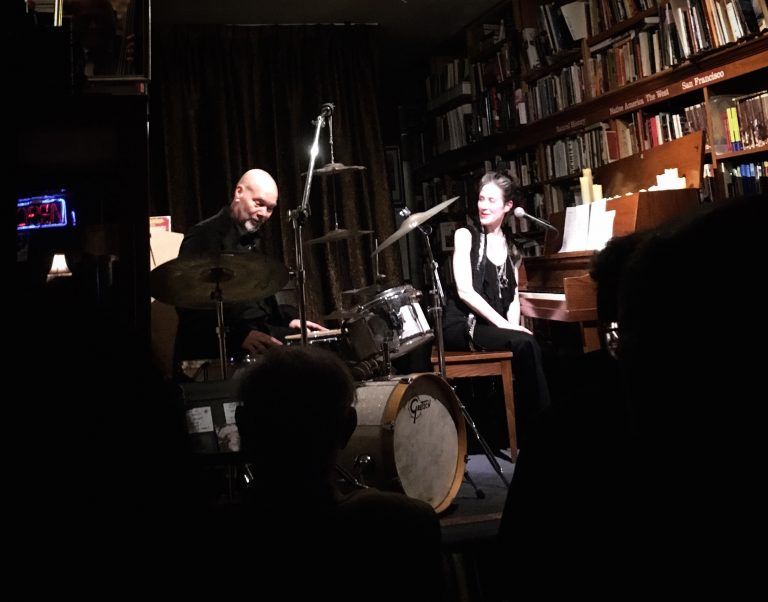 The return of Jill Tracy's "Muse and Music Series" where she discusses the intriguing stories behind the songs and the approach to craft with fellow musicians. This is a fun, interactive show with the audience! 
Joined by master percussionist/drummer Randy Odell, and a very rare appearance by Chapman Stick player Alex Nahas, whose unusual stylings appear on her acclaimed album "The Bittersweet Constrain." 
The now NYC-based Nahas will open the show with his original compositions under the moniker Bright Brown. 
Hailed by LA Weekly as '"the cult darling of the Underworld," Jill Tracy's seductive, shadowy compositions have become synonymous with the beautiful dark— featured on Showtime's DEXTER, CBS-TV Navy NCIS; and movies like Dr Jekyll and Mr Hyde, and Other Madnesses. 
Her piano music and smoky vocals will transport you into an elegant netherworld full of hidden passageways, wonder cabinets, and opium dens. Of monsters, marvels and mayhem. 
You know it's not safe here; but with Jill Tracy as your guide, you'll be in no hurry to leave. 
Bright Brown is sonic cinema, the visually poetic songwriting of Brooklyn based singer and Chapman Stick player, Alex Nahas. Bittersweet layers and textures abound and beautifully crafted songs exist at the core. 
"Bright Brown bring an ideal soundtrack to the crisp autumn air…sparse and repetitive like a piece for avant-garde dance to expansive and melodic like the theme to a western where everyone dies in the same pool of blood" – The Deli, NYC 
Originally hailing from San Francisco where he formed the critically acclaimed art rock ensemble, Laughingstock, Alex has collaborated on stage and in the studio with John Vancerslice, DJ Shadow, Zoe Keating, and Jill Tracy amongst other artful denizens of the SF music scene. Alex will be joined this evening by innovative Laughingstock drummer, Mark Bernfield. 
Don't miss this rare night of music and muse: Friday, Sept 28, 2018, 8pm at Bird & Beckett, 653 Chenery St, San Francisco. First come, first seated. $20 donation suggested.
(from the 2018 News Archives)