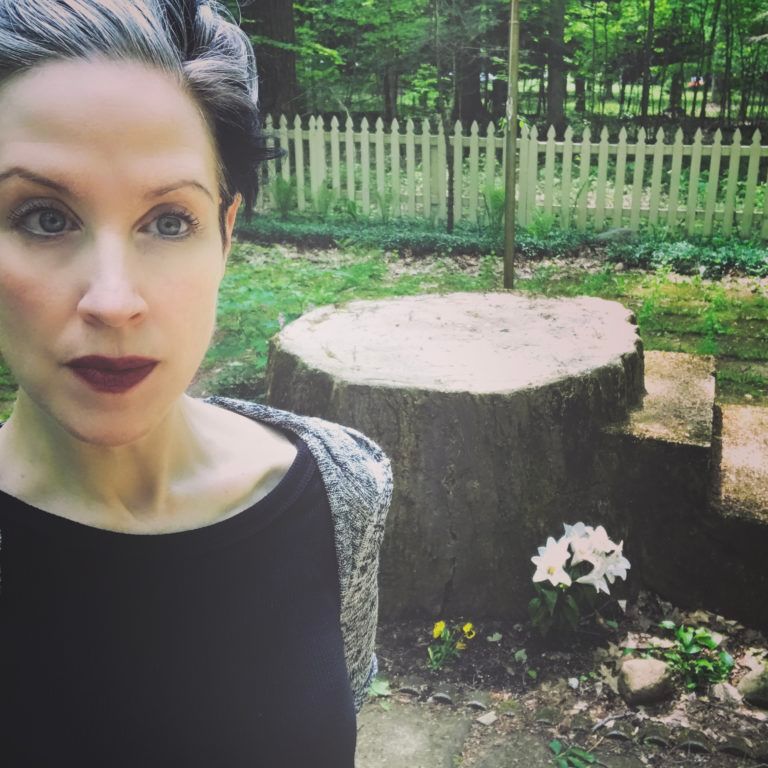 Compelling new interview in Haute Macabre about creating "The Secret Music of Lily Dale," hidden frequencies, spirit phenomena, Jill Tracy's beliefs and process for unearthing music in unusual locations.  (Named in "Favorite Interviews of 2017" by Haute Macabre writer S. Elizabeth.) 
In this photo: Setting up for field recording in the mystical Leolyn Woods. This odd tree stump in Lily Dale is renowned for its extraordinary, otherworldly energy. The locals call it Inspiration Stump. Steps have been added to the tree's remains (supposedly struck by lightning prior to 1879.) Mediums worldwide have gathered here for over 140 years to send and receive messages from the spirit realm. It's one of the most famous and powerful destinations within this little private Spiritualist community of Lily Dale, NY. 
Experience the fascinating embrace of this old growth forest and its many spirits. With the new album "The Secret Music of Lily Dale," YOU will be able to hear what's its like to be immersed in this sacred place alone with no one around. (At least no one you can see…) 
Read the new Haute Macabre interview, with photos HERE.